Biography
Biriwiri is a Malawian Afro-Hip Hop duo made up of childhood friends Kabuzi (Khumbo Munthali) and Zizwa (Ken Limwame). Biriwiri started in mid 2000's when Kabuzi and Zizwa reconnected at Chancellor Collge, University of Malawi. Signed to independent Malawian label, Nde'feyo Entertainment, their first album 'Chipata Chopapatiza' was released in 2006 soon after they graduated. It contained hits Daily Daily, Mudzionetsetsa and Ndikumbukira Agogo which catapulted them to the fore of Malawian urban music scene. Their second offering, Umayitha followed up in 2009 and continued their musical rise with popular songs  Pompo Pompo, Umayitha and Iweyo. They are currently working on their third album which will be released in the second half of 2011.
Biriwiri is one of the leading and pioneering local urban acts in terms of live performances. Comfortable with both live band and backing tracks, they have performed in Germany at the Africa Music Festival in 2010.  In the same year and the preceding one they were part of the few Malawian urban artists to make it on the roster of performers at the Lake of Stars International music festival. Since 2006 they have been part of the fixture at numerous local events across Malawi. Their album launches have helped to promote not only themselves but the entire local urban music scene in Malawi.
Biriwiri's uniqueness comes from their style of blending modern urban beats with traditional tunes and rhythms. Their rap has been described as freshly authentic and relevant because of their creative use of the vernacular Chichewa language, identifiable themes, memorizable hooks and handling of subject matter. Their appeal transcends beyond the local Malawian youths to reach older audiences. Daily Dailyand Pompo Pompo are part of the musical consciousness of many Malawians. Internationally, apart from performing and promoting their music in Europe, when their song Mudzionetsetsa was in 2010 included in the internationally acclaimed Afrolution's Original African Hip Hop Compilation volume 2. To build on that, Biriwiri's videos will soon be playing on regional and international TV.
Biriwiri influences include 2 Pac and Notorious BIG, Jay – Z, Outkast, Oliver Mtukudzi, Mafikizolo, Lucius Banda and Wambali Mkandawire. Locally the duo has collaborated with the Late Stonard Lungu, Lucius Banda, Dynamike, Young Kay, Dan Lufani, Maskal, and Tigris just to mention a few.
Discography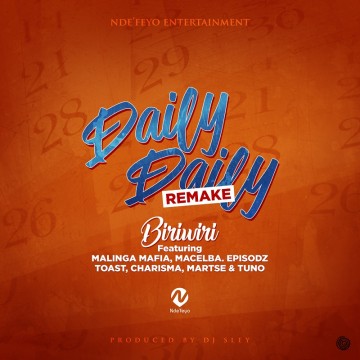 # of songs : 1
Genre : Hip Hop
Year : 2017
Type : Single
Country : MW
# of songs : 2
Genre : RnB
Year : 2015
Type : Single
Country : MW
Subscribe on Youtube :
Follow on Instagram